Cameroon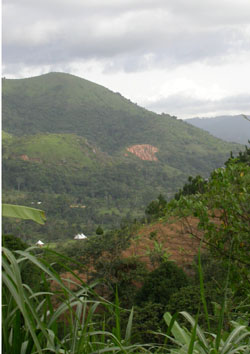 Hills near Bafang, West Cameroon

He'll fix everything...

The genuine Afro Look

Corruption is one of Cameroons main problems - pay 500 Francs and go ahead

Plantain is one of the most important ingredients in local cuisine. Here it comes as a yammy barbecue

In major town along busy roads you'll find every ten meters a so called callbox. Means a woman, an umbrella and a mobile phone.

Since Douala is entirely build on sandy river banks its streets are allmost all in this state, often worse.

Streetsoccer origins from Africa I think ...

... around Youndés gigantic Omnisport Stadium in the next generation trys to get a foot on the (glorious) ground

If there's not sufficient money to pay a truck, almost everything can be expedited this way too

An iron worker in Yaoundé

Near the coastal town of Limbe the rainforest reaches almost to the sea.

Limbes black beach sand is of volcanic origin.

Traditional houses, like here the Chefferie of Bandjoun are getting rare nowadays. Aluminium sheet metall has concuered.

Foumbam, in north western Cameroon, is dominated by its muslime population

Foumbams luxurious Sultans palace is still in use but today also hosts Cameroons most important collection of tribal art.

Cattle from northern Cameroon is brought to the markets in the south.
A distance of more than 1000 km

Cameroons Rainforest enshrine an imense diversity of flora and fauna.
Unfortunately this natural heritage will probably be destroyed in the near future by logging and fire to make space for settlement and agiculture.

Cameroon is mainly pre industrial and there are hardly any real industries. Even gravel is sometimes stll made by hand.

bye bye